Wellness Care
Preventive care is the key to keeping your pet healthy and happy. It is our goal to prevent illness whenever possible. Routine examinations and a complete preventive health care plan are the best ways to stop illness and disease before they affect your pet's quality of life.
When it comes to keeping your pet healthy, prevention is the key. Northlands Animal Care Hospital emphasizes wellness exams and preventive care as part of your pet's overall health care plan. We recommend your pet undergo a thorough wellness exam each year, and in senior pets more frequent exams are encouraged. A "nose to tail" wellness exam can spot diseases and health care problems in your pet before they become more difficult to treat.
Vaccinations
Up-to-date vaccinations are of most importance in your pet's health care. Every pet is unique and so each pet has different needs when it comes to vaccinations. We work closely with you to develop a vaccine protocol for your pet based on his or her needs and lifestyle. Some vaccines require annual boosters, while others do not.
For Dogs we vaccinate against Canine Distemper, Parvovirus, Kennel Cough, Parainfluenza and Infectious Canine Hepatitis.
Puppies have a course of 3 vaccinations starting at 6, 9, and 12 weeks, 3-4 weeks apart.
Dogs 1 year and over have an annual booster vaccination
Kittens aged 8, 12, 16 weeks require a course of 3 vaccinations 2-4 weeks apart, includes feline Aids virus.
Cats 1 year and over need an annual booster, against Feline Aids, Chlamydia and Respiratory disease.
Feline Aids Virus is a leading killer of cats in Christchurch. You can protect your cat from this life threating virus with three initial vaccinations then one annually.
Travelling with your pet overseas? We can help with the vaccination reqirements and provide helpful information.
Puppy and Kitten Care
Northlands Animal Care Hospital wants to help welcome your new puppy or kitten into your home!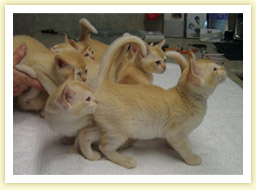 Burmese kittens 8 weeks old
Your puppy or kitten's first year is a critical time in your pet's life. Vaccinations are particularly important and we create a vaccine protocol that is tailored specifically to your pet. Getting an early start on dental care is also a must. We can help you start a dental management routine for your pet that helps prevent periodontal disease and get him or her on to a 100% premium diet that has all the benefits of teeth cleaning added.
We are proud to offer a special welcoming pack for your new puppy or kitten, filled with valuable health care information about your newest family member. This information helps you make informed decisions about the care and training of your new pet.
Each pack also includes a sample of either IAMS, EUKANUBA or HILLS SCIENCE DIET pet food, a free month of worm and/or flea prevention and a discount vouchers for money off premium foods. Plus 6 weeks Ellenco or Pet-n-Sur pet insurance to the value of $1500. Call us today to schedule an appointment for your new puppy or kitten.
Senior Pet Care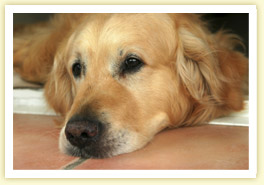 Your pet's health care needs change as he or she ages. Pets age faster than people and your pet reaches his or her "senior years" by the age of seven. When it comes to older pets, prevention is the key. Often, symptoms of disease or chronic conditions may be misinterpreted as signs of "old age". Regular wellness exams (at least once a year, though more frequent exams are encouraged), routine blood tests and diagnostic procedures can keep your senior pet healthy for years to come.
You are your older pet's most important ally when it comes to health care. As your pet ages, he or she may develop diseases such as diabetes, arthritis, high blood pressure and other chronic conditions. Watch for changes in your pet's health and behaviour. If you notice any sudden changes, we urge you to schedule an appointment with us as soon as possible. Together, we can develop a health care plan that best fits the needs of your older pet. We understand the life-long bond you share with your faithful companion, and it is our goal to strengthen and preserve that bond.
Parasite Control
Keeping your pet free from fleas, worms, ticks and other parasites is a must! Parasites cause your pet pain and discomfort; beyond that, some parasites, such as fleas, ticks and hookworms, can affect your family as well. Controling and preventing parasites is an important part of your pet's health care! Northlands Animal Care Hospital offers a great range in parasite prevention:
Endoguard Liver flavoured Allwormer and Millpro tablets for both cats/kittens and dogs/puppies from 2 weeks of age.
Drontal Allwormer for both cats/kittens and dogs/puppies from 4 weeks of age.
Dogs and Puppies:
Frontline Plus (flea, lice and tick control) 8 weekly application via pipette
Advocate (flea, wormer, lice and 2 types of mange) 4 weekly application via pipette
Bravecto (flea) six months (spot on) and three month (chew)
Cats and Kittens:
Frontline Plus (flea control) 6 weekly application via a pipette
Advantage (flea control) 4 weekly application via pipette
Advocate (flea, wormer & earmite control – NOT reccomended in sick or dibalitated cats) 4 weekly spot-on application via pipette.
Broadline (flea and worm control) 4-6 weekly spot-on application.
Bravecto (flea) and Bravecto Plus (flea and worm) three monthly spot-on treatment
Puppy Preschool
Puppy Preschool classes are held at Northlands Animal Care Hospital weekly on a Wednesday night from 7.30 pm (the whole family is welcome)!
Anne Benson our qualified behaviour specialist runs these fun classes for 8-14 week old puppies with their first vaccination. These valuable classes allows new owners to learn basic commands, toilet training, stages of development, dog language, responsible ownership, nutrition, and much more… and the pups have a blast!
Microchipping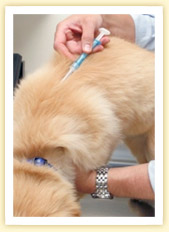 Does your pet have a microchip? Each year, thousands of pets go missing and many don't make it back home.
Microchipping your pet is a simple, effective way to prevent this tragedy. The chip about the size and shape of a grain of rice, Is implanted via a needle beneath your pet's skin, usually between the shoulder blades. Microchips are encoded with you and you pet's vital information.
Vet clinics, SPCA, Animal shelters, Christchurch City Council and Rangers across the country are equipped with special scanners capable of reading these microchips – if your pet is lost, then found, the microchip is scanned and the number read then this number is checked on the national database for your details to reunite you back with your pet.
Microchipping can be done in a consultation and is also highly recommended for cats.
What if I don't get my dog microchipped?
The Council will send you a letter requesting you to comply with this law, and if you still fail to comply, you will receive an infringement notice without further warning. This carries a hefty penalty.
Weight Management Program

If your pet has a weight issue and the veterinarians recommend a weight loss diet there are now great ways to ensure you as the owner receive all the information to help your pet lose weight, safely and happily! We are happy to help you with any questions you have about your pets' nutrition.
Nutrition Advice
The basis of good health is a sound diet, optimum exercise and maintaining an ideal body weight and composition.
Our vets and nurses can determine your pet's individual needs and design a diet suitable for their breed type, life stage and activity level. We only recommend quality premium diets made from the highest quality ingredients with the right blend of vitamin and minerals, antioxidants and omegas.
Plus:
100% money back guarantee on all premium foods sold
Loyalty card system for the premium foods
A quality diet will:
Promote healthy immune system and help prevent disease with powerful antioxidants.
Promote a healthy skin and coat with added Omega 3 and 6 and fatty acids.
Ensure strong teeth and bones with ideal levels of calcium.
Provide energy and reduce stool volume with digestible fats and carbohydrates.
Promotes optimal sensory and mental health to minimise behavioural and health problems associated with stress.
Promotes oral health to clean and freshen breath and reduce tartar build-up
We stock Hills, Eukanuba and Royal Canin.
Prescription Diets
We have a large range of specially designed diets for animals with specific health conditions like:
Kidney, liver or renal disease
Heart disease
Weight loss and joint problems
Teeth and gum cleaning
Urinary tract (struvite crystals, cystitis, oxalates)
Brain
Skin and coat
Allergies
Digestive upsets (sensitive stomachs, vomiting and diarrhoea).
Arthritis
Thyroid disease
Diabetes