Whether your pet is in for a routine spay or neuter procedure or requires a more complicated soft-tissue surgical procedure, he or she will be treated with the utmost care at Northlands Animal Care Hospital.
Our vets have many years experience performing a wide range of surgical procedures, including:
Abscesses and fight wounds, dental surgery, general surgery including neutering, orthopaedic operations, laceration/bite-wound repairs, soft-tissue surgeries, eye and ear surgery, reconstruction/plastic surgeries.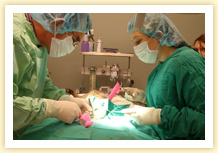 To ensure your pet's safety and comfort, we perform a complete physical examination and conduct a series of in house blood tests. We use these tests to identify any pre-existing conditions that may affect the use of anaesthesia on your pet. We develop an anaesthetic protocol that's unique to your pet using the information collected from these tests.
We know that surgery can be a stressful experience for you and your pet. The Vets and the staff at Northlands Animal Care Hospital strive to keep your pet as comfortable as possible during all procedures. If you have questions about your pet's surgery, please ask us! We are more than happy to answer any questions you may have. As soon as your pet is out of a procedure we will endeavour to contact you to give you and update!
Following surgery all our patients are admitted to heated cages in the recovery ward where they are closely monitored by our recovery team and appropriate pain relief, oxygen therapy, intravenous fluids, and other drugs administered to ensure an excellent recovery outcome.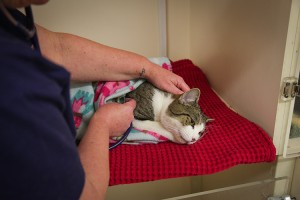 Desexing your cat or dog
Cats on average have four-five kittens per litter and dogs up to 10 puppies per litter. You will need to be sure that you can provide food, water and care for each puppy/kitten plus its mum and sometimes its dad. Kittens and puppies should have a vet check and their first vaccinations before they are sold.
Benefits of desexing
A significant discount on registration fees.
Less likely to show aggression to humans, wildlife and other animals.
Less likely to try to escape or wander.
Less likely to get cancer or other diseases of the reproductive organs, such as testicular cancer, prostate cancer/disorders in males, and cystic ovaries, ovarian tumours, acute uterine infections and mammary cancer in females, and also other diseases like, perianal tumours and perianal hamias.
More likely to live a longer and healthier life.
Eliminates the "heat" cycle for females, and male dogs are less likely to "mount" legs and other objects.
Desexing myths
Your pet will lose significant personality
Your pet will become fat and lazy
Your pet will be in unbearable pain for weeks
Desexing should only be performed by a vet and is normally at around six months of age.
Pain Management
We are dedicated to providing the most effective and safe pain management to all our patients.