Thank you to all our wonderful clients for your support and understanding with the new traffic light system.
Our staff remain dedicated to client service and patient well being within the guidelines set out by the Veterinary council and NZ government. Please do chat to one of our staff members when scheduling your fur baby for an appointment if there is any confusion regarding the new system.
As of Monday 31 January 2022, we will be making changes in the way we operate as to minimize the spread of the highly contagious Omicron Virus. We want do everything we can to stop the virus effecting our staff and ability to operate.
What this means for you:
-Clinic hours: Monday to Friday 8.30am-6pm, Saturday 9am-3pm, Sunday 10am-3pm
-We are operating by contactless appointments and not allowing clients into the building.
-Please make sure you bring cats in cages and dogs on leads. If you don't have a cage for your cat, we can lend you one.
-Please scan the QR code upon arrival.
-Adhere to 1 m social distancing and mask use.
-The number of consultations and surgical appointments daily will be reduced.
-Retail items are available as normal.
-Please email repeat prescriptions through 48Hrs in advance.
-Stay at home if you are sick, or if a member of your household has COVID.
What this means for us:
-We will be working in teams, rotating days.
-Please be patient we will be working hard behind the scenes ensuring we deliver our best as always!
Veterinary Council and Government Guidance links below: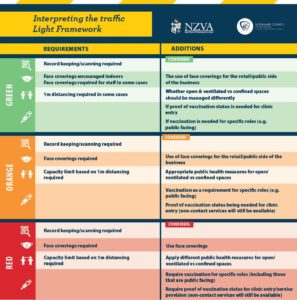 NZ Vet Council Guidance: https://tinyurl.com/Vet-Council-Guidance
Life at Orange: https://covid19.govt.nz/traffic-lights/life-at-orange/
Life at Red: https://covid19.govt.nz/traffic-lights/life-at-red/